Welcome to Sliding Door Repair Experts Miami
Sliding Door Repair Experts Miami is your local full-service sliding door repair company in Miami. We are able to meet all of your needs with ease and we have many years of experience in the field. We can provide you with the repairs, replacements, and installation services you need to keep your sliding glass door on its track and working flawlessly. We have been called the best sliding door company in Miami and each one of our team members is licensed, certified, and insured to provide you with the help you need when it comes to your glass doors.
If you are looking for a reliable and reputable company to work with, you have landed in the right place. We will help you with any and all problems that may arise with your sliding doors. Living in Miami, Florida does mean that your sliding door will experience more wear and tear than other areas due to the inclement weather and salty air. It is important that you have your doors inspected every so often to identify any problems that may lie within them.
Our team is able to handle any issues that arise with the function of your door. We know how difficult sliding doors can be to open and close when they stop working correctly and we recommend that you never force them into an opened or closed position, as this may lead to injury. If you are in need of sliding door replacement in Miami, call our office today to get a FREE quote.
Repairs for Sliding Doors in Miami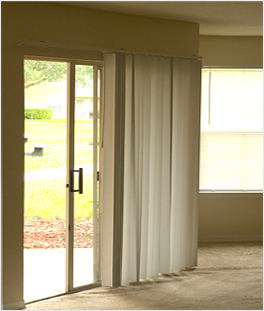 Before your Miami sliding door can be repaired, it must be looked at first. Our team is able to carefully and safely remove your doors from the track and inspect them from top to bottom to identify any problems. We inspect the locks, handles, rollers, tracks, and more to make sure they operate properly and do not need to be replaced.
Our team is known for our timely and affordable Miami sliding door repairs. Once a problem has been identified with your door, we will provide on-site repairs. If repairs will not correct the problem with your door, we will recommend a replacement and ensure you choose the right one for your needs.
Talk to Our Sliding Door Professionals Today
We know that it is important for you to be able to receive the repairs you need for your sliding door in Miami without the worry of the invoice at the end. We want you to be confident when you choose to work with our team and we will provide you with a FREE estimate for the job. This way, you know what it will cost beforehand. In addition, we do offer the lowest prices in the entire Miami area.
If you are in need of Miami sliding door repair or replacement, call Sliding Door Repair Experts Miami now to schedule an appointment.